6 chairs by Jørgen Kastholm for Kill International

» Anfrage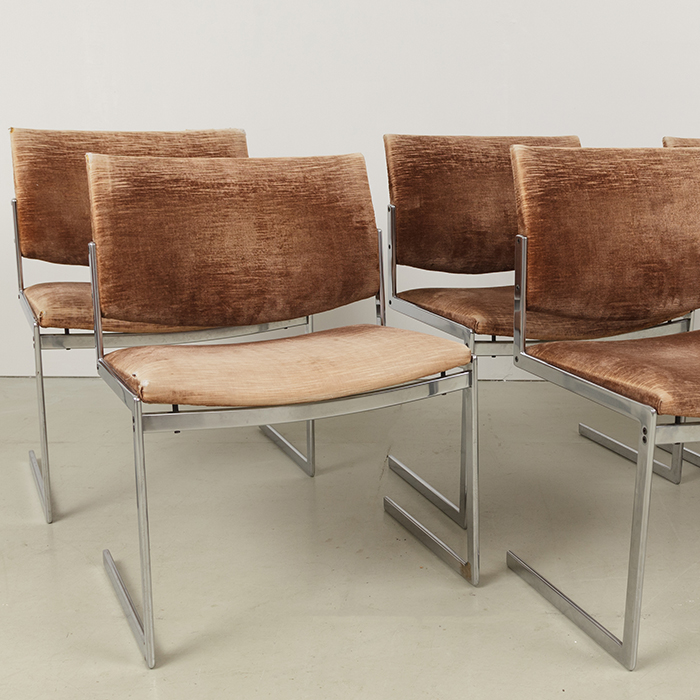 Rare set of six chairs designed by Jørgen Kastholm for Kill International
Sold
Design: Jørgen Kastholm, 1970s
Model: No. JK 770
Manufacturer: Kill International, Fellbach, Germany
These chairs are part of an office furnishing series manufactuered by Kill international, designed by Jørgen Kastholm in the 1970s.
The chairs are covered in a caramel-brown mohair fabric. Seat and backrest are screwed to a brushed polished steel frame.
These chairs were only a few month in production. They are made in an outstanding quality where the details speak for themselves. Jørgen Kastholm favored a functionalist approach and a minimalist aesthetic, always aimed at simplicity and timelessness. During it's heyday, Kill International was one of Germany's most important furniture manufacturers, influencing an entire future generation of architects and furniture designers. The circumstances of the company's eventual closing are unknown, but the surviving work has become highly collectible.
The chairs and also the additional offered Kill International furniture are part of an office furnishing bought in the late 1960s by a Berlin architect.
Condition:
The original upholstery is shrunken. The fabric partly worn out. The chairs should be re-upholstered. This could be done according to your wishes in our workshop. We calculate the upholstery costs for each chair between 120,- and 200,- Euro, depending on the chosen fabric.
Dimensions:
Wide 57,5cm
Deep 50cm
Height 80,5cm
Seat height ca. 43,5cm